5 Zone Wireless LED Dimmer
Ever wanted to be able to dim many different parts of your house or business with just one remote? The LED Wizard 5 Zone Dimmer does exactly that! It lets you individually control up to five different zones independently or in a group.
The LEDwizard 5 Zone LED dimmer includes 1 remote control unit and one Wireless receptor that will let you control 1 zone. If you wish to control more than one zone, you will just need to add additional receivers that will enable you to control independently up to 5 different zones.

What is included:

1 Five Zone Wireless Remote control
The Wireless 5 Zone LED dimmer remote control is made from high grade silky acrylic, which gives a nice and excellent feel to the touch. It has 10 independent buttons to dim any zone up/down and On/Off.
This Wireless remote will work right out of the box as it already includes batteries (Button type) and you just need as many 5 Zone Wireless receivers that you may want to use. (1 unit included with the product)

Also our LED Wizard Remote control dimming system uses a strong radio signal that is able to travel through walls and glass, and can be used up to 100 feet away.

1 Wireless Dimmer receiver for 1 zone
This wireless receiver can work in any of the 5 zones. It has a special "Learning Button" that is in the unit that will enable you to pair it to any of the 5 zones in the wireless remote control.

You can add as many optional receivers as you wish to create up to 5 different control zones. Each zone can have endless number of receivers to each zone, which will let you escalate any installation from small to super size.
1 Wall Holder
An easy to mount wall holder is included to safely store the controller.

Nice Functions Included:
- Memory function: Even if the unit looses power, it will remember all dimming values, so when power comes back, all light will be at the same level where they were left.
- Soft On and Off: Every time you turn On or Off the lights they will gradually turn On/Off softly.

Technical details:
5 Zone LED Wizard Remote Control
- Lightweight Silky Acrylic Finish
- Batteries Included (CR2025)
- Individual control of 5 different Zones
- ON/Off Button for each zone
- Dim UP/Down for each Zone.

5 Zone LED Wizard receiver:
480W@24VDC, 240W@12VDC
12-24V DC operation
256 Levels of Seamless Dimming
Soft On/Off Control
Intelligent Channel Assignment

Easy Installation:

After you have wired all the receivers according to the this picture, you need to do the following:

1. If you use multiple receivers, you have 2 choices: Have all receivers in the same zone like zone 1 for example or have each receiver in a different zone, like Zone 1, 2 3 and so on.
2. In order for each receiver to know what Zone it belongs to, you will need to "pair" it to the zone you wish to use. In order to do this, you need to power up the unit, and once that is done, you need to firmly press the learning button in the receiver: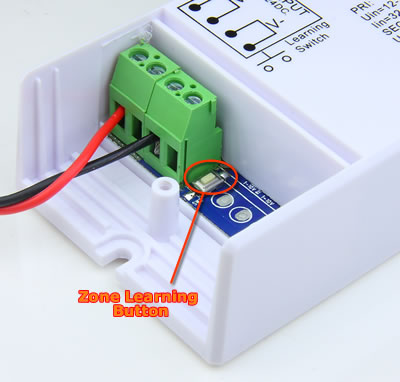 Immediately after that you will need to press the ON or OFF button on the remote control from the zone you wish to use. Once you do that, the Lights will Blink once. Now your Remote and receiver are paired!

3. Do the same for the other receivers if you use them.


| | |
| --- | --- |
| Product Manual | PDF |
| Dimmable | Yes- Dimmer included |
| Operating Voltage | 12-24V DC |
| Max Power | 480W@24VDC, 240W@12VDC |
| Warranty | 3 Years |
| Weight | 0.45 lbs |
| Size | 2.25" X 6.5" X 1.20" |
| IP Rating | IP33 |
| Control System | PWM 24 Bit |
| Product Color | Black Controller and White Reciever |
| Working Temperature | 35-140F |
| Certificates | CE, RoHs |
Customers Questions and Answers
1) Can i put 3 different receivers (3 different zones) on one dimmer remote, if they are all being powered independently?
Yes you can.
Product Rating
Customer Reviews
Author: Carlos
This product is excellent if you want yo use it all over your house, like living room, kitchen etc. Control all with just one remote! Sweet!