LED Strip Connectors & Interconnectors
We specialize in all kinds of solderless connectors and interconnections for LED strips Lights.
The connectors are designed so you can easily connect, power and interconnect any of our LED lighting strips.


Advantages:
- Easily connect any LED strip with out soldering.
- Easily ineterconnect any LED strip lights to make corners and bends in a snap.
- Easily configure any LED strip Light to your own requirements.

How To use:
1. First determine what kind of strip you will use and the width of the LED Light strip.
2. Select if you are going to use single color or color changing LED strips Lights
3. Once you decide which strip to use, select the connector that matches the width of the LED strip light. (Usually 8mm or 10mm)
8mm LED Strip Connectors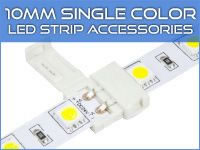 10mm LED Strip Connectors
10mm RGB LED Strip Connectors