LED Light Bars & Premium LED Light Bars
LED Light Bars come standard in 12 volts for basic LED Light Bars and 24V DC for our Premium LED Light Bars. The 12V LED Light bars can for used in many applications like recreational boats, RVs, home accent lighting and retail lighting environments. Premium LED Light bars are designed for top notch installations demanding higher lumen output and UL Certification. LED Bars are modular and can be installed in Flat surfaces or in 90 degree corners.
Main Applications:

Under Cabinet LED lighting
Cabinet and Pantry Lighting
Closet Lighting
Retail Display Lighting
Fridge LED Lighting
Counter Top LED Lighting
RV and Boat LED Lighting
Task LED Lighting

Features:

Aluminum Light Bars designed for multi-angle use
Bright 3 or 5 and 8W Watt Models Available
Designed for modular use
Fully Dimmable Control
Can be installed in 90 degree corners or flat surfaces.
12V and 24V DC Operation.
LumaBlaze High Power LED Bars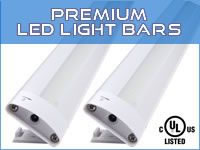 Premium LED Light Bars
Driverless LED Light Bars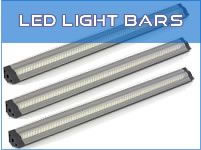 LED Light Bars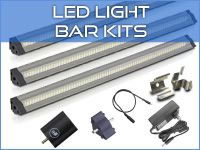 LED Light Bar Kits