ChromaFlow RGB LED Controller
Solid Apollo's Chroma Flow RGB LED controller is a new and enhanced product that will enable you to wirelessly control any color changing LED lighting system. Chroma Flow includes a receiver and a wireless remote capable of transmitting signals up to 100 feet away, even through walls!

Solid Apollo's Chroma Flow contains new control features found only in high end products: Full and precise control of colors with fine chromaticity control, full spectrum color selection, brightness control, and much more!

Chroma Flow receiver can handle more power than its predecessor, which is useful for demanding installations. Each receiver can handle up to 5 Amps per channel and is also very flexible when working with different LED installations as it can work seamlessly with systems that operate in any voltage ranging from 12 to 36V DC.

Features
10 Fading effects programs with selectable speed control: From 2 seconds to 8.5 minutes.
Create your own color by using the adjustable color levels on each channel.
Choose different colors by using the Rainbow picker function.
Easily select from 7 predefined Colors (Red-Blue-Green-Orange-Yellow-Cyan-Purple).
Create 3 tones of white light: Warm White, Daylight White and Cold White.
256 levels of brightness levels.
Smooth and even color fading programs without any flickering.
Slender and silky hand held wireless RF remote controller with powerful on-board functions.
Enabled to pause at any color during color changing modes.
Individual Color buttons allow separate smooth color adjustments of each color.
Receiver can work as master or Slave for simple or complex installations.

LED Wizard Chroma Flow RGB Remote can also work with power data repeaters to infinitely expand the output

Solid Apollo's new Chroma Flow wireless RF LED controller can control an endless number of receivers at the same time. All the receivers will share the same common ID address.

Technical details

Remote control
Operating Voltage: 3VDC (Battery Included)
Operation frequency:433.92MHZ
10 control functions

Receiver

Overload protection
3 channels
Operation voltage: 12-36VDC
Operation max current: 3ch x 5A
Output power: 3ch x (180-540W)

| | |
| --- | --- |
| Product Manual | PDF |
| Operating Voltage | 12-36V DC |
| Max Power | 540W at 36V DC |
| Warranty | 3 Years |
| Weight | .35 Lbs |
| Size | Receiver: 7"X1.8"X.8"- Remote: 5.5"X.25"X1.5" |
| IP Rating | IP33 |
| Control System | Triac PWM |
| RGB Channels | 3 (Red, Gren, Blue) |
| Product Color | Denim Black remote, White receiver |
| Working Temperature | -20-140F |
| Certificates | CE, RoHS |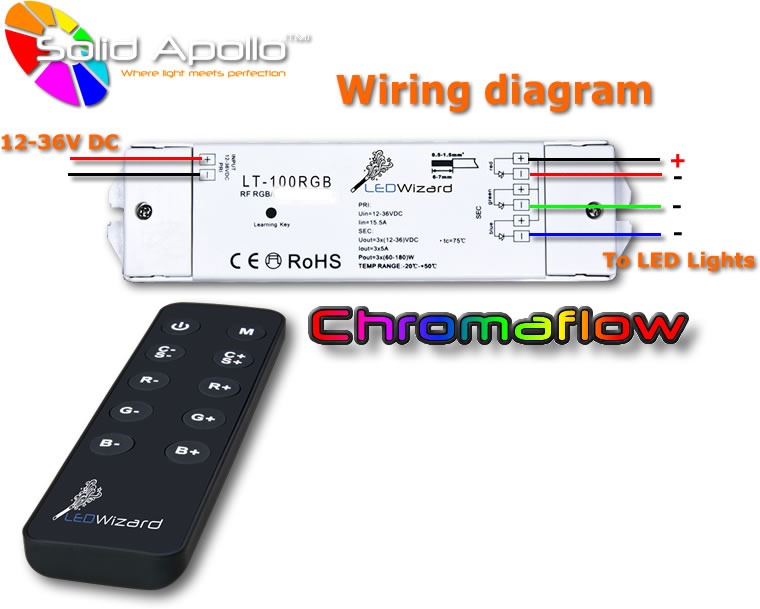 Customers Questions and Answers
Product Rating
Customer Reviews
There have been no reviews for this product.