DuoBrite RGB+W Controller with RF Remote
The DuoBrite RGB+W Controller now has a 4th Channel - White. This incredible new color changing controller has two functions. You can control RGB (Red, Green, Blue) and White individually to set single color lights or mix all four colors at the same time to create one unique color. The other function is, you can change colors, play color-changing modes or even just turn it On or Off hassle free with the RF Remote.
Use the DuoBrite RGB+W controller inline with any 12V to 24V color changing RGBW lights to precisely control any color. Over 16,000 color variations or choices are possible! Then use the RF remote to initiate 1 of 36 incredibly vibrant color changing programs to bring excitement and energy to any location. Add excitement to your under cabinet areas and shelves, back lighting behind the entertainment center or bathroom mirrors, the possibilities are endless!

On the controller, each of the 4 knobs controls a single color, either red, blue, green or white, and can be used at the same time to precisely mix colors, such as various shades of yellow or purple. On the other hand, the RF remote control will enable you to play with 16 levels of brightness, 16 levels of speed and controlling up to 36 color changing programs.
When playing any of the color changing programs, you can pause or change the speed and brightness levels of the program being played. The RF remote comes with an included battery (battery type: 23A 12V) and has a wireless range of 100 feet with obstacle and 200ft without obstacle.

The DuoBrite is the perfect color changing RGB+W controller to bring incredibly vibrant light to any surrounding.

Technical Specs (Controller):
Input Voltage: 12V to 24V DC
Max Power: 240W (12V) / 480W (24V)
Includes 36 Color Changing Programs
5 Amp per Channel
4 Knob Rotary Design
Control Colors and Programs
Clear Digital Readout
Technical Specs (RF Remote):

100 Feet Wireless Range With Obstacle and 200ft Without Obstacle
Comes with Battery (23A 12V)
Compact Design with 8 Buttons
ON/OFF Button
Select Programs Buttons
Pause, Speed and Brightness Control Buttons
Color Changing Modes on RF Controller:
1 - For Choosing Any Color
2 - Static Red
3 - Static Green
4 - Static Blue
5 - Static Yellow
6 - Static Purple
7 - Static Cyan
8 - Static White
9 - 3 Color Skipping
10 - 7 Color Skipping
11 - White Strobe
12 - RGBW Strobe
13 - 7 Color Strobe
14 - White Speed-Up Strobe
15 - Red Fading
16 - Green Fading
17 - Blue Fading
18 - Yellow Fading
19 - Purple Fading
20 - Cyan Fading
21 - White Fading
22 - RGB Fading
23 - Red Green Smooth Transitions
24 - Red Blue Smooth Transitions
25 - Green Blue Smooth Transitions
26 - Red Yellow Smooth Transitions
27 - Green Cyan Smooth Transitions
28 - Blue Purple Smooth Transitions
29 - Red Purple Smooth Transitions
30 - Green Yellow Smooth Transitions
31 - Blue Cyan Smooth Transitions
32 - Red White Smooth Transitions
33 - Green White Smooth Transitions
34 - Blue White Smooth Transitions
35 - Yellow Purple Cyan Smooth Transitions
36 - All Colors Smooth Transitions
37 - Color Cycling Mode
Product Comes with 4 Knob Controller, RF Remote Control and Instruction Manual

| | |
| --- | --- |
| Dimmable | Yes by RF Remote Control |
| Input Voltage | 12V - 24V DC |
| Max Power | 240W (12V DC) / 480W (24V DC) |
| Warranty | 3 Years |
| Weight | 0.50 lbs |
| Dimensions | Controller: 6.92in x 1.81in x 1.18in, RF Remote: 3.93in x 1.53in x 0.60in |
| IP Rating | IP55 |
| Control System | PWM |
| RGB Channels | 4 (5A Each) |
| Product Color | White PVC |
| Certificates | CE, Rohs |
The Duobrite RGB+W Controller is perfect for the following Applications:
Controlling Color Changing RGB+W Lights
Great for Outdoor applications
Accent and Decorative Lighting
Outdoor Walls
Buildings
Decks
Facades
Gardens
Patios
Stairs
Architecture Lighting
Landscaping Lighting
Kitchens
Restaurants
Hotels
Bars
Theaters
Game Rooms
Play Rooms
Cafeterias
Bathrooms
Retail Store
Casinos
Lounges
Coin-Operated Machines
Sporting Events
Trade Show Exhibits
Stage Lighting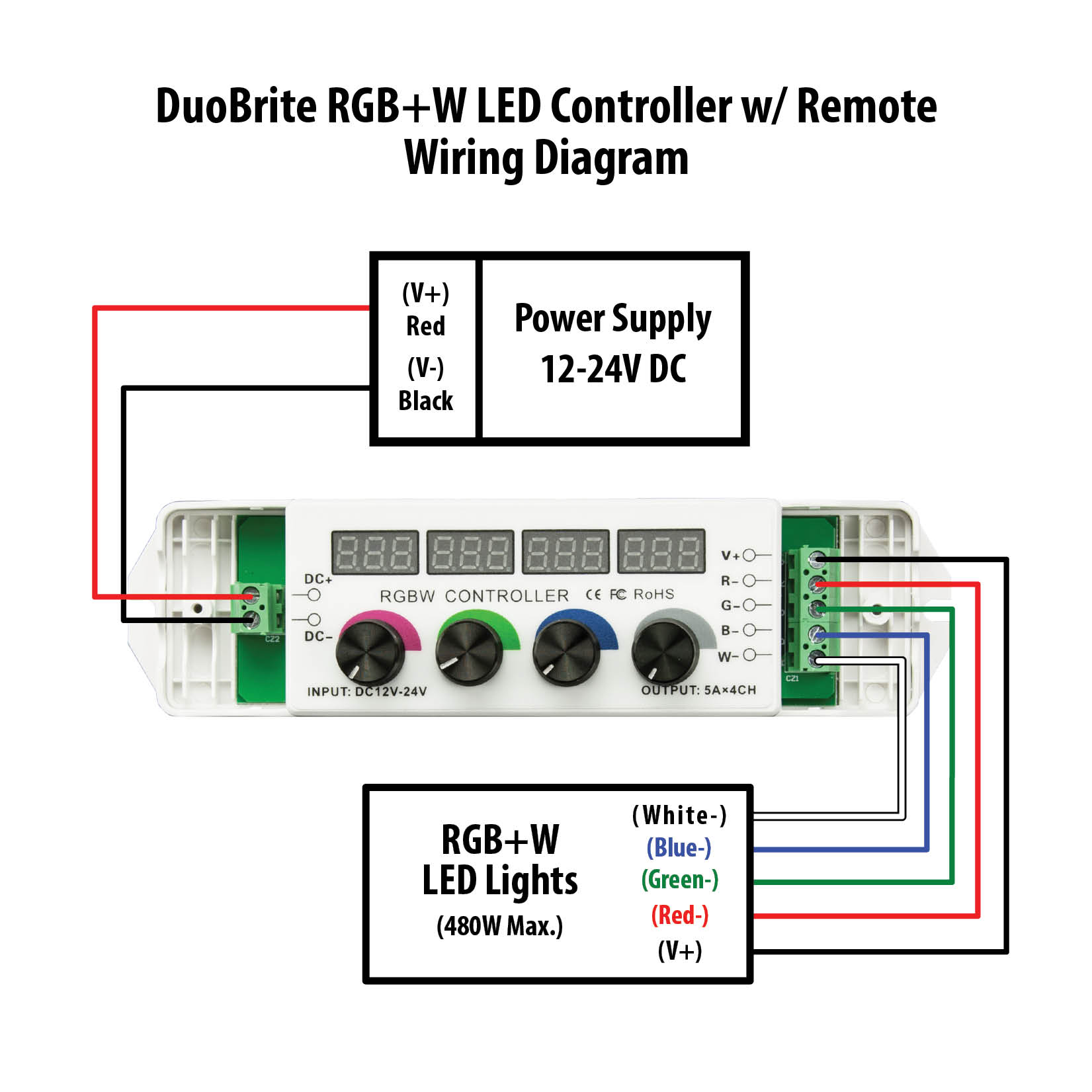 Customers Questions and Answers
Product Rating
Customer Reviews
There have been no reviews for this product.
Customers who bought this product also bought: