120V AC 8 Zone Wireless Waterproof RGB Controller
Solid Apollo's 8 Zone Wireless Waterproof RGB (color-changing) controller is designed to be used with RGB LED Lighting products that work at line voltage of 120V AC like our Driverless RGB LED strips and our RGB Neon LED.

This state-of-the-art driverless controller is full of incredible and exciting feature never seen before in line voltage products.
The 120V AC 8 Zone Wireless Waterproof RGB Cotroller lets you individually control up to eight different zones independently or in a group and is able to fine tune a selected color, adjust brightness levels, and apply 1 of 10 color changing programs throughout all zones or in a group.
The 120V AC 8 Zone Wireless Waterproof RGB Controller includes 1 wireless remote control unit and one receiver that will let you control 1 zone. If you wish to control more than one zone, you will just need to add additional receivers that will enable you to control independently up to 8 different zones.
What is included:

1 X 8 Zone Wireless RGB Remote Control
The 8 Zone RGB wireless controller is perfect for controlling 8 different zones. It uses a strong radio signal that is able to travel through walls and glass, and can be used up to 100 feet away. Thanks to its color wheel with SenseControl ™ it's easy to select any color for each zone plus you can fine tune the color by adding more or less of RGB (Press and hold Red, Green, or Blue buttons until color is desired). The 8 Zone RGB Wireless Controller can adjust the brightness levels for each color and has 10 color changing programs with chase and fading effects that can be apply through all zones.
1 X Wireless Controler receiver for 1 zone
8 Zone Wireless RGB (color-changing) dimmer can work in any of the 8 zones. It has a "Learning Button" that is in the unit that will enable you to pair it to any of the 8 zones in the wireless remote control. You can add as many optional receivers as you wish to create up to 8 different control zones. Each zone can have endless number of receivers to each zone, which will let you escalate any installation from small to super-size. The wireless receiver is also equipped with "Memory Function". If the unit loses power, the Memory Function will remember all adjustment values so when power comes back, all light will be at the same level where they were left.
Technical details:

8 Zone Wireless Remote Control
Easily control up to 8 different zones individually or in group.
Controls 3 Channels: RGB (Red, Green, and Blue)
Color wheel with SenseControl ™
Brightness levels can be adjusted for each individual color/zone
10 Color Changing Programs with chase effects and fading effects through all zones
Up to 100ft transmission strength
On/Off switch of individual zones or all RGB LED lights
8 Zone RGB LED Wireless Wizard receiver:
Waterproof casing for indoor/outdoor use, IP rating of 67
High Voltage applications (100-240VAC)
Wireless range of up to 100ft
Memory Function
Intelligent Channel Assignment
Available Accessory:
RGB Outdoor Waterproof Connector: The perfect solution to easily make your cables a secured waterproof connection.
| | |
| --- | --- |
| Dimmable | Yes by remote |
| Input Voltage | 100-240V AC |
| Max Amp | 5A |
| Warranty | 3 Years |
| Weight | 2.35lbs |
| Dimensions | 6.25in x 3in x 1.5in |
| IP Rating | IP67 |
| RGB Channels | 3 |
| Product Color | White Controller and Receiver |
| Working Temperature | -4F - 122F |
| Certificates | CE, RoHS |
Main Applications:
To control Driverless Color Changing Strip remotely
Great for Outdoor applications
Accent and Decorative Lighting
Outdoor Walls
Buildings
Decks
Facades
Gardens
Patios
Stairs
Architecture Lighting
Landscaping Lighting
Kitchens
Restaurants
Hotels
Bars
Theaters
Game Rooms
Play Rooms
Cafeterias
Bathrooms
Retail Store
Casinos
Lounges
Coin-Operated Machines
Sporting Events
Trade Show Exhibits
Stage Lighting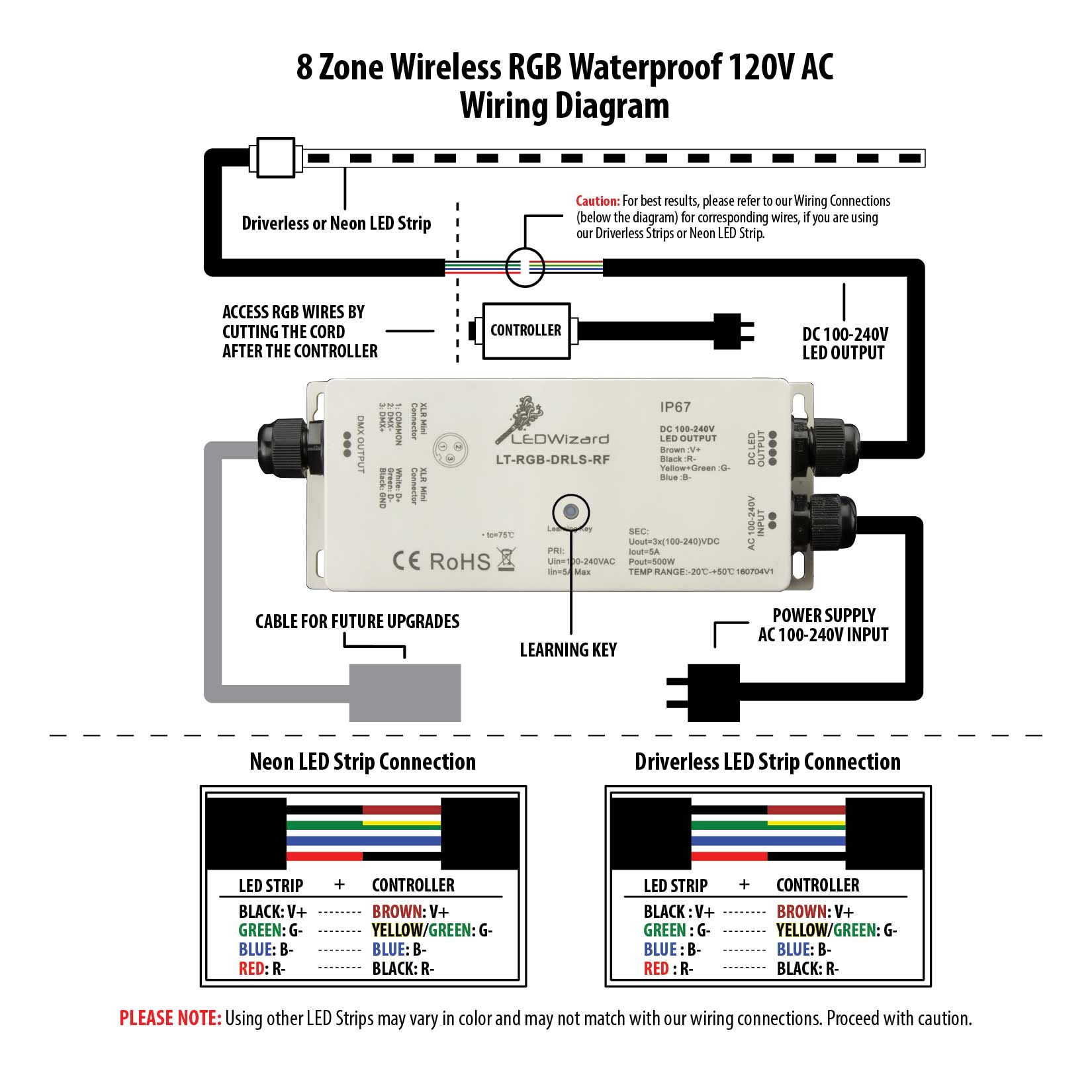 Customers Questions and Answers
Product Rating
Customer Reviews
There have been no reviews for this product.
Customers who bought this product also bought: